This page is dedicated to our Children's Hosptial staff. The staff at the hosptial has our sons future in their hands. There is no one else that I would trust our baby to.

A special thankyou to Matthew, our Speech Pathologist. He has given me so much. I don't know where to start.

The next day after I had Zack was a day I'll never forget. A day suppose to be filled with such happiness was flooded by fear and sadness. Unknown to me, Matthew came to the hosptial and was so patient and kind with me. I don't think that I would have enjoyed my baby boy at the hosptial, like every other mother does during that time, with out him. He assured me that I would be able to take care of my baby and ANYTHING that I needed all I had to do was call him.

He gave his word that Zacks cleft team would do everything in their power to take care of him. They are doing exactly that. I look foward to the many years of them taking care of our precious baby.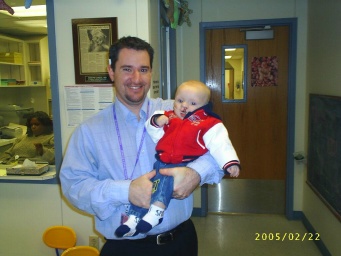 Zack and Matt
A thank you to Andrea...this poor girl puts up with me all the time. Your the best!
Zack and Andrea
Zacks surgerical team
Dr. Mason, Dr. Vecchione, Dr. Deleyiannis
A debt of gratitude to our Orthodontist, Dr. Vecchione. She has been a true blessing to our family. She has always had Zacharys best intrest at heart and the up most dedication and patience when she is working on our sons mouth.

I can't say enough about her. All our family and friends want to thank her for all her hard work and dedication that she have shown to Zachary. Our gratitude can never be expressed for the excellent job she has done to prepare our Zackie for surgery. Thank you Dr. Vecchione we will alway be grateful to you.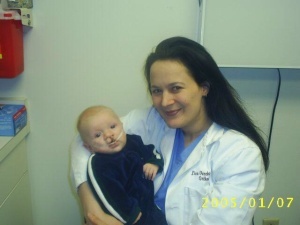 Zack and Dr. Vecchione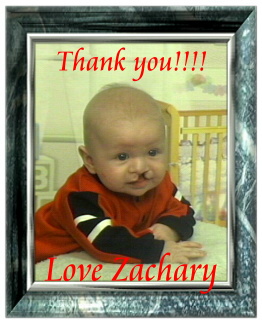 Another cleft advocate mother and I were sharing our stories and she said the following.

"In the first few days I asked, "why us?" Why can some people have so many unwanted babies with no problems? And now I have come to realize God gave him to us BECAUSE we wanted him so badly that he knew we would love him regaurdless. It is so wonderful that we were given these little guys."

Those are my exact feelings...it is a true blessing from God to have this child in my arms.